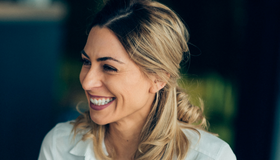 Victoria had spent 20 years working as a Director of Research in the Biotechnology industry in the U.S. and was excited to explore new opportunities in the Food (Sciences) industry in The Netherlands. As she searched for her next career move, she came across QTC Recruitment and was immediately impressed by their unique and progressive approach to talent matching. This is her story:
Coffee
"During my exploration phase on the internet, I was struck by the refreshing description of QTC Recruitment on the LinkedIn page of the Food Science consultant. So, I decided to contact him if we could have a chat. His professional way of approaching me felt good. I had been in contact with other high-end recruitment organisations before, but these contacts felt more 'transactional'. This felt like more 'the middle road'. He proposed to get together for some coffee. Something I couldn't decline after that warm, first encounter.
Insights in trends
From the moment I scheduled a coffee meeting, I knew I was in good hands. The consultant took the time to truly understand me as an individual and provided valuable insights into the trends of the Food Sciences industry. We also discussed important elements such as social diversity and inclusion, environmental responsibility, and progressive management styles. We brainstormed and created a list of my skills and the top ten organiations with a potential job content and cultural fit.
Creative matchmaker
With my list of organisations, my skillset and my preference for culture and management, the consultant looked at my profile and said: 'we have to be creative here'. He was able to see beyond my initial job preferences and suggested roles I hadn't considered before. Like something in Supply Chain, I did have the skills to perform in this role. I thought I would forever be a Director of Research. His ability to see something else for me showed his creativity as a 'matchmaker'.
Stayed in touch
Throughout my job search, the consultant stayed in touch with me on a weekly basis, introducing me to companies with current and future openings. Eventually, I found a match with a different organisation outside the QTC Recruitment network. The consultant was genuinely happy about my success and willing to continue supporting my transition by offering insights into my future company.
Consider QTC Recruitment
I highly recommend QTC Recruitment and plan to give them referrals and consider them again when I hire people myself. Their approach is truly relationship-building, where both parties see each other as human beings. Together we brainstormed to see how past experiences can open new opportunities in existing or different industries. The emphasis on cultural fit, where companies see diversity and inclusion as a way to build sustainable people- and business- relationships is also key."
Check out our vacancies