Written by manon - 8 Minutes reading time
Guide to developing a training program for new employees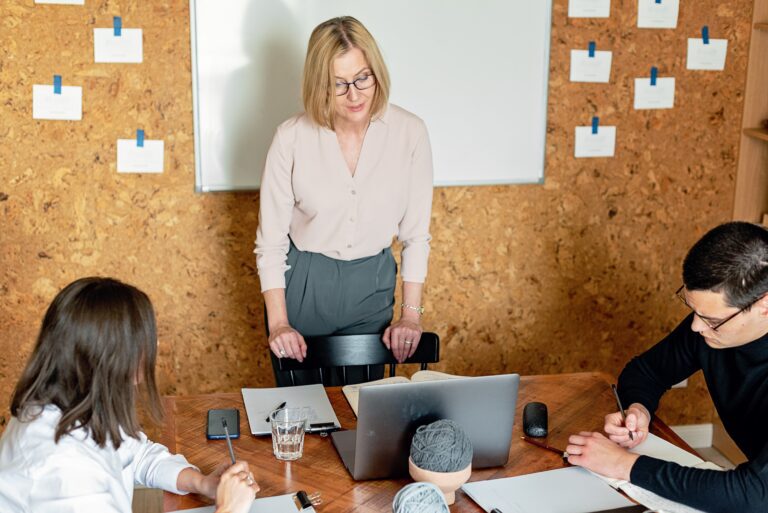 [vc_row][vc_column][vc_column_text]Training new employees properly is essential to starting them off on the right foot. Here's what should go into your new hire training plan.
A new hire training plan helps business leaders bring new hires up to speed and make them feel welcome at the company.
New hire training is important not only to ensure a new hire has the skills and tools they need to do their job, but also so they understand how they fit into the larger organisation.
An effective new hire training program takes into account existing employees' experience, mentorship, a new hire's learning preferences, and constant improvement and refinement.
This article is for small business owners who are expanding their team and want to train new hires quickly and efficiently to start them off on the right foot.
Growing companies hire new employees, and new employees need training. Ideally, you are identifying and hiring candidates who already have the skills to perform the job, but they still require training to fully integrate into your company. This guide explains what should go into a new hire training program and how to continuously improve your training process.
What is a new hire training plan?
A new hire training plan is a well-defined process by which new team members are onboarded into the company and learn the essential processes. It should help them understand the tools they need to do their job effectively and how to communicate with other team members, as well as introduce them to core concepts like the company mission, organisational structure and company culture. "Onboarding is the overall process of getting a new hire up to speed, including doing new hire paperwork, meeting the team [and] training with software," said Rex Freiberger, CEO of Discuss Diets. A strong training plan can prevent misunderstandings or a sluggish start, helping the company to reap the benefits of filling a vacant position as soon as a week after the new hire begins in their role. In addition, a comprehensive new hire training plan should make new employees feel welcome at the company, introducing them to key members of the organisation, informing them of any perks and helping them to identify sources of support within the company. "Ideally, the initial development doesn't take more than a few weeks, so [new hires] are able to get some autonomy early on in their role, which often boosts morale," said James Boatwright, CEO of Code Galaxy.
Importance of new hire training
Training is critical to make new team members feel comfortable in their position while giving them the knowledge, tools, and skills they need to become successful and productive member of your company. An official new hire training plan ensures that training is comprehensive, thorough and effective. "Training of new hires is extremely important for the success of your business in order to reduce turnover of employees and remain productive during the onboarding process," Boatwright said. "If training isn't done well, it can frustrate new hires and cause them to leave soon after being hired – a costly problem. "Onboarding consists of the initial development of the skills needed to get started, then ongoing development will continue to really hone in on making sure they have all the knowledge and tools needed to do their job well," Boatwright added. "Once retention is achieved, you can separate the employee from the training program and allow them to work fully independently." Since an effective new hire training plan is such an essential part of growing a business, it is important to get it right and then iterate on that successful model as your business continues to grow.
How to develop an effective new hire training plan
These five tips can help you develop a new hire training plan that gets your new employee settled in and produces top-quality work quickly and with minimal instruction.
1. Consult existing employees on what you should include in training.
The best place to start developing a new hire training plan is with those who have already been trained, especially those who excel in their current roles. Consult your employees who work in roles similar to that of your new hire. "Setting up a new hire training program can be daunting," said Matthew Dailly, managing director of Tiger Financial. "You need to think about the most important aspects of the job but also the smallest details that they will need to learn to get right. The best way of knowing what new staff need to do is to ask your existing workers. They will make sure you know about everything that goes on in the role and how to set them up for it." Asking your existing employees what information they think a new hire needs to perform their daily tasks can help you avoid overlooking key details. It can also help you identify gaps in your current training plan that your existing employees have experienced firsthand. Ask them what they wish they knew on day one that would have made it easier to begin working.
2. Make training flexible, task-oriented and ongoing.
No two hires are exactly the same, so training should be dynamic enough to adapt to the strengths and weaknesses of each new employee. While all new hire training plans should cover the basics of what it means to work at your company, it is important to incorporate unique elements for each hire based on their interview and professional background. "Each person will enter training with varying skills and different focuses on what they need to be able to get through the training process successfully, so while the basics are core features, the rest of the training should remain flexible enough to suit each individual based on their personal needs," said Adam Korbl, founder and CEO of iFax. "Instead of having a fixed-time training, have a task-oriented training where each training item needs to be completed to a specific standard to move forward to full employment," he added. "This allows the flexibility to give each person the training experience they actually need, as opposed to the basic requirements." While each new hire should be able to perform their job in just a week or two, training should be an ongoing process, with regular check-ins to ensure your new employee has everything they need to excel in their position.
3. Encourage team-level training.
At larger companies, it is common for training to cover the basic expectations of the organisation, as well as key information like compensation and benefits. However, additional training opportunities at the team level can get a new hire up to speed faster. "Companies often do onboarding on orientation at the corporate level. While useful, orientation is also helped by being done at the team level," said Mark A. Herschberg, author of The Career Toolkit: Essential Skills for Success That No One Taught You. "Helping the new team member understand team culture is equally important. How does the team operate in terms of conflict versus coalition building, or like to communicate?" A team-level training can help a new hire understand their own team's workflow, the reporting hierarchy of the team, day-to-day expectations for their role and more than a corporate-level training might not cover. It's also an opportunity to bring a new hire into the existing process, introducing them to the team members they will work closely with and any metrics used to track the team's productivity.
4. Accommodate each new hire's preferred learning method.
People learn in different ways, so your new hire training plan should be adaptable to various learning styles. Conforming to a new hire's preferred learning method can help your training stick more quickly, reducing the amount of instruction a new hire needs before they can perform in their role effectively. "When training new employees, it is important to engage them in a way that best suits their ability to learn the most," said SEO consultancy owner Jase Rodley. "People can often differ in how they will best get a handle on something." You're likely to see three main learning styles emerge among new hires:
Visual: Some new hires prefer to learn processes by watching someone actively perform tasks the first time.
Repetition: Other new hires need to take a hands-on approach to learning, performing the task themselves several times before they can commit it to memory.
Reading: Some employees prefer to read a packet of written instructions and keep it on hand in their first few weeks on the job.
"While not all aspects of training are made to move between [these three learning styles] … it is good practice to give the new employee the best chance of success that you can by providing the method that most inspires them," Rodley said.
5. Promote good leaders and involve them in the training process.
Without good leaders, your staff will have a hard time succeeding. This is especially true for new hires. When promoting or hiring for managerial positions, carefully consider which candidates could best guide and coach other employees. Then, involve them in the development and execution of your new hire training plan. "The leadership ability of the manager is the No. 1 determining factor of whether a new hire will have a positive or negative employee experience over the long haul," said Jessica Donahue, owner of Adjunct Leadership Consulting. "Employee engagement, retention and turnover can all be predicted by the quality of leader an employee works for. In this way, providing an exceptional onboarding experience is the first step for a leader looking to retain and engage a high-performing team for years to come." By following these tips, you can develop a new hire training plan that is sure to succeed. Constantly solicit feedback from new hires you have onboarded and trained in order to refine and improve your plan. As your company grows and evolves, so should your new hire training plan. After all, there is always room for improvement. QTC Recruitment provides tailor made advice to meet the needs of your company. To assist the HR department, we provide a flexible RPO service. A company's HR department can guarantee that new employees receive enough training. It's ideal for resolving capacity issues or requiring specialised skills. We can lend a hand. Find out what we can offer
here
! Read more interesting
news
.
---
Also published on Businessnewsdaily.com
---
Want to stay informed about current Life Science and recruitment news on a regular base? Then register
here
for free.[/vc_column_text]