Written by Alisa - 8 Minutes reading time
How to create an employee value proposition: 6 steps to get started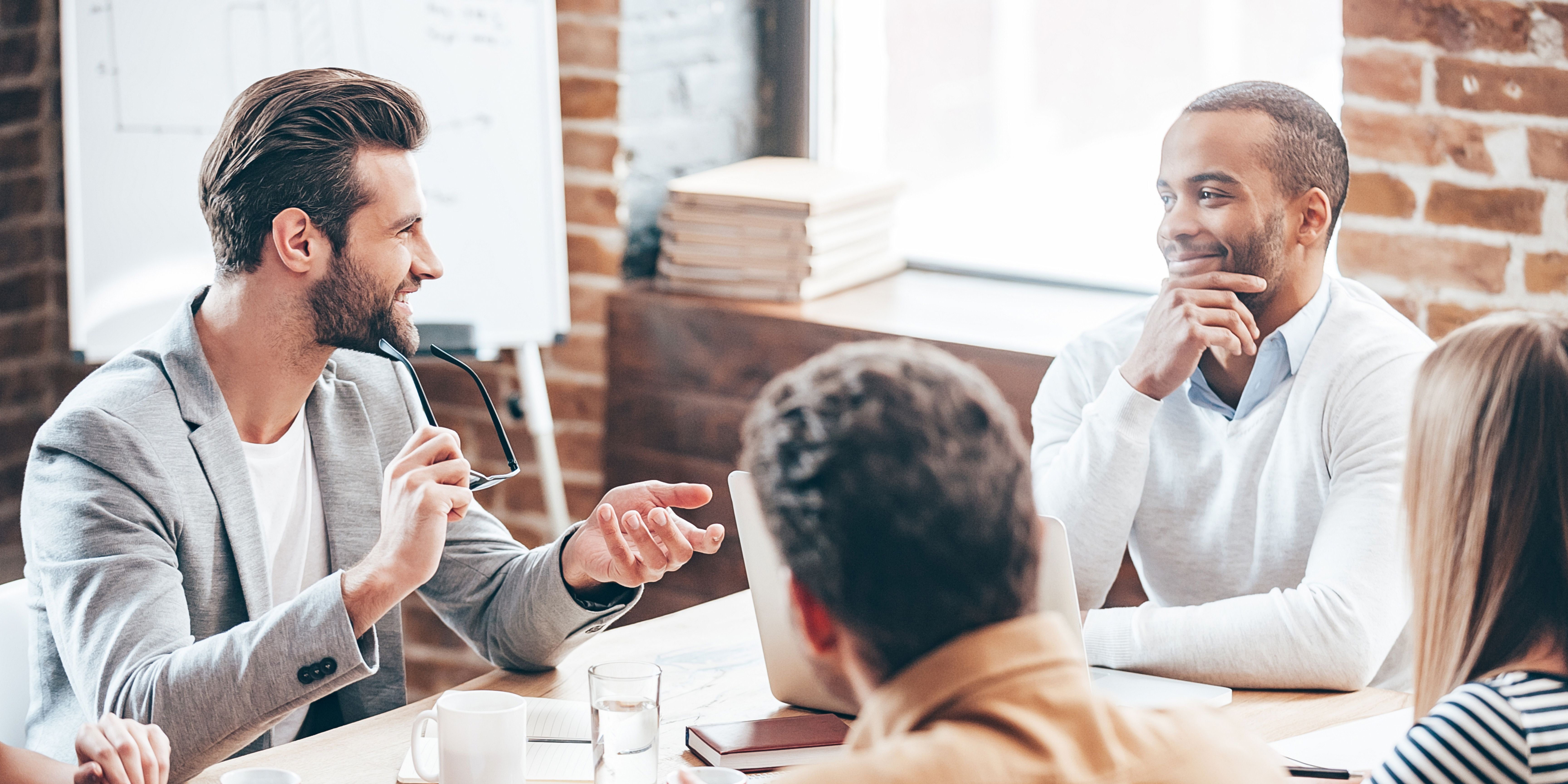 One of the most important things that future applicants will consider when applying for or accepting a job within an organisation is the employee value proposition (EVP) — what an employer plans to offer its workers in exchange for their services. An employee value proposition will include the salary, benefits, and other rewards people receive for working for a company.
One should view the employee value proposition as part of an employer branding strategy, something that sets a company apart from other companies searching for similar talent. In fact, organisations that routinely struggle with talent acquisition and recruitment marketing often suffer from a lack of a compelling employee value proposition. On the other hand, with a unique and attractive employee value proposition, companies can attract qualified and loyal candidates to become champions for their organisation. 
Follow these 6 key steps to establish an employee value proposition that resonates with applicants.
Assess Company Rewards Package
The first step in evaluating and improving an EVP should be to look at the salary and benefits package. Specifically, identify the salary structure for each role in the organisation and benchmark it against other companies in a similar area. Ideally, the salaries should be at or above the current market rates.
Offering a competitive salary ensures that an organisation's talented workers stay on board with the organisation. If few other organisations are willing to offer the same level of compensation or offer less, there's little reason for employees to leave.
If salaries don't meet the market average, carefully assess the next steps. One option is to provide an across-the-board salary increase for all roles to align compensation packages with other companies. Another option might be to choose to increase salaries based on performance and provide a boost to workers who merit the raise. There is also the potential to combine both methods to meet the compensation benchmarks.
Next, examine the benefits package, including health care, vacation and sick leave, and even retirement options. Benefits play a significant part in the employee value proposition, and it can differentiate an organisation from the competitors by offering benefits they don't.
For instance, a company might consider offering a flexible working schedule that allows its employees to set their own working hours or work from home. The company could also invest in its workers' education and provide tuition reimbursement or access to skills training. In addition to providing a fulfilling career path forward for employees, a company can also empower them to do more and make a bigger difference in their organisation.
Interview Current and Past Employees
Once the total rewards package of what is offered has been fully assessed, understanding what sets an organisation apart and where to improve are the next logical step. However, a company shouldn't ignore the valuable insights they can glean from their workforce. After all, employees likely have some thoughts about the organisation, and with the right questions, an organisation can determine what employees like best about the company and where they'd like to see improvements.
Of course, getting honest feedback from existing or prior employees isn't always easy. People may worry that their honesty could lead to retaliation, especially if their comments aren't entirely positive.
Therefore, consider setting up an anonymous survey to alleviate the pressure on workers to provide only positive information. In the survey, ask employees and prior workers for their thoughts about their view towards the employee value proposition. Ask whether they felt their compensation was fair or whether there were additional benefits they wish were offered.
Assure employees that their comments will remain private, and don't ask them for any identifying information. Along with the survey, include an explanation of the purpose of the survey and what the organisation plans to do with the results.
When employees understand that the organisation is only looking for ways to improve the value proposition, they'll be more likely to provide the information that can be used to improve it. Be careful not to ignore or overlook their feedback — employees are the best source for actionable insights that can help attract better candidates.
Define the Key Components
When revising an employee value proposition, an organisation will want to define its key components. While they may have already thoroughly investigated their current salary packages and benefits offerings, sometimes writing everything down can provide additional clarity.
Aside from detailing the compensation and traditional benefits, look at what else the company offers its employees. For instance, does the company have a long history of promoting from within? If so, emphasise that the company believes in mentoring and training lower-level employees for high-performing positions in the future. That can be very attractive to a person early in their career, especially if they aspire to obtain a management-level role.
Another area where an organisation may stand out is community participation. Perhaps an organisation values volunteering, and the company partners with various non-profits to benefit specific causes. For some candidates, this is the kind of thing that inspires long-term loyalty in an organisation.
Finally, consider what sets the office apart from other employers. Office perks can be of value to employees and prospecting job seekers. Such as an on-site fitness area or an outdoor campus where people can take a walk when they need to step away from the computer or a dedicated break room full of snacks and drinks that workers can enjoy.
Use this list to clearly define the best parts of an organisation in an EVP, especially if the budget to offer premium compensation is not available.
Write an Employee Value Proposition
Once there is a full understanding of everything that a company offers to new and existing employees, it's time to summarise the employee value proposition in a single statement or paragraph. While it's tempting to draft a lengthy summary of the benefits in an effort to impress candidates, it needs to be concise enough that someone reading it can immediately understand the benefit of joining an organization.
For example, consider Starbucks, a corporation that promises a "culture of warmth and belonging." Its leaders also value the environment and seek to reduce the store's impact on the climate through recycling and operating green stores. Starbucks also emphasises training and development through learning and skill development.
So when writing an employee value proposition, keep it short and clear, concentrating on the key benefits offered to workers. This way, anyone who reads the proposition will walk away knowing what matters most to the organisation and how it supports their employees in key areas.
Promote the EVP Through the Right Channels
The next step is to make an employee value proposition a vital component of the talent acquisition and recruitment marketing efforts. Include the employee value proposition throughout all communication channels, but especially wherever it can attract employees, whether through a job board, social media, or the company website.
Use social media to communicate with potential applicants and existing employees, by creating content aligning with the employee value proposition. Consider making short videos showing the team enjoying a day off for volunteer opportunities or highlighting a fun night out at the bowling alley.
Develop blog posts focusing on specific benefits unique to the organisation or discuss an employee who accomplished particular goals by working for the company. The more the employee value proposition is shared with followers, the more they'll associate certain benefits with working for the organisation.
Review the Results
Once an employee value proposition is established and shared with the world, it will need to be determined whether the quality of the candidate pool improves. To do this, compare talent acquisition results with those before the EVP was created or refined.
Is there a higher level of qualified candidates? Are people sticking through the recruiting process, while in the past, some dropped out?
Ideally, an employee value proposition will allow for attracting better candidates who identify with the company's values. They'll be committed to working for a company because they believe in the same things. For example they may identify with a company's goals for continued improvement, education, training, and work-life balance.
When an employee's beliefs align with a company's, they'll commit to an organisation for the long term and make every effort to perform well in their roles. Employees will know that their chances of finding another organisation that offers a similar employee value proposition are slim, and they'll recognise that the company is the right fit for their needs.
If the employee value proposition does not yield the desired results, examine where it may be falling short. Is the compensation too low? Do other companies offer more vacation or PTO time? Is the proposition communicating clearly or through the appropriate channels?
If the EVP does not gain the traction anticipated after about six months, analyse where it could be improved and adjust the EVP if needed.
Employee Value Proposition Is Crucial to Attracting Top Talent
With the right employee value proposition, it can be easier to attract and compete for talent when recruitment marketing. While it can be time-consuming, developing a robust employee value proposition will pay off in dividends. It will attract higher-performing talent who shares the same ideals and beliefs that align with the organisation.