Written by Rinesa - 7 Minutes reading time
How to tell if a potential employer has a burnout culture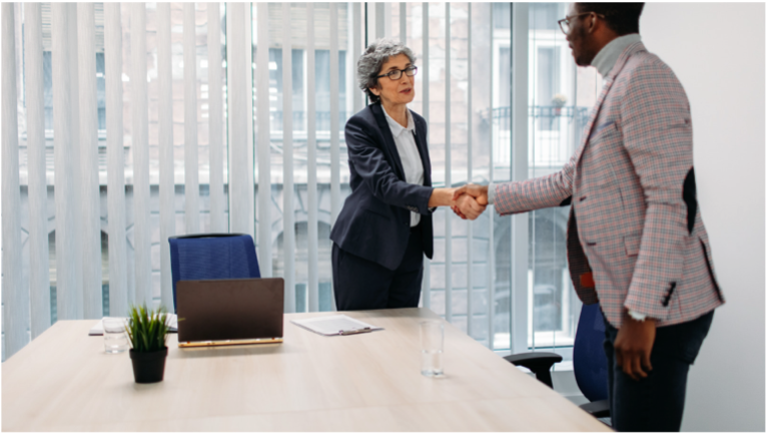 Burnout is often seen as an individual problem. But research has shown that burnout at work is due to systemic negative conditions, such as unequal promotion opportunities, a lack of autonomy or flexibility, feeling like you don't belong, or a values misalignment, such as a lack of support for working parents.
According to Gallup, 76% of employees say they've experienced burnout. If you're one of them and have decided to look for a new role, how can you identify whether a potential employer has a burnout culture? Will the company support your well-being and productivity? Or will they leave you exhausted and looking for a new job again?
You can glean a lot from publicly available information. The job posting will tell you about the company culture. Look for inclusive language and mentions of flexibility or remote work. Also, look at the benefits: Does the company provide mental health benefits, subsidised childcare, or paid leave for caregivers? You can also look at the company's reviews on sites like Glassdoor, whether it's on an annual Best Places to Work list, or whether it's signed the Thrive and SHRM mental health and well-being pledge.
However, it can be hard to tell whether what's publicly available is more of a branding exercise rather than a true investment in systems that reward healthy work habits. So job seekers should be prepared to ask probing questions during the interview stage and make pertinent observations of your interviewers' behaviours.
How to Detect Burnout Red Flags
The following guide provides signals to look for, questions to ask, and ways to evaluate answers during the interview process to assess whether a company has a burnout culture in which it treats employees as commodities or whether it has a human-focused, whole person culture. The questions below map to the six causes of burnout identified by researchers Michael P. Leiter and Christina Maslach.
Lack of Autonomy
You can feel burned out when you feel that have little choice in how and when you work. Managers at a healthy company will trust that you can get the job done. To assess how a company views autonomy, ask:
Do I have flexibility over when I do my work during the day?
How do you assess my work hours?
How do you assign workload and deadlines?
If the job involves shift work, how much notice do you provide in terms of schedule changes?
Pay attention: You're looking to make sure your manager is open, flexible, and doesn't micromanage. Clear answers to these questions indicate that expectations are aligned across the team and that employees are given appropriate autonomy.
Lack of Fairness
When your hard work is not valued or you don't feel like you're treated equally to your colleagues, it's easy to feel exhausted or demoralised. To assess how a potential employer views fairness, ask:
What sort of employee metrics do you collect?
How are promotions decided?
Do you have a process for pay equity reviews?
Do you have a diversity officer? How many people are on the DEI team?
How do you report on diversity goals?
What ERGs do you support, and are members paid for leading initiatives?
Pay attention: You're looking to see whether the company has proactive processes that ensure greater equity and how many resources are dedicated to it. Listen to see if your interviewer is transparent about the company's deficits and desire to improve. If the company isn't collecting data on diversity or equity or if your interviewer isn't comfortable answering these questions, then they are unlikely to be paying attention to this as an issue.
Unsustainable Workload
According to a Gallup survey, employees are 70% less likely to experience high burnout when they have enough time to do their work. To understand how a potential employer values your time both inside and outside of the workplace, ask:
What are standard work hours? How often do people have to work on weekends?
How much time will this role spend in meetings? When are these scheduled?
What's the expected turnaround time on emails?
Do you have agreed-upon collaborative hours?
Can I turn off notifications for focused time?
How do you prioritise tasks and mitigate overload?
How does the team communicate when they have too much on their plate?
When do you have team-building events — during the workday or outside of work hours?
How do you assign office housework tasks (such as taking meeting notes or ordering lunch)?
Pay attention: You're looking for organisational guardrails to prevent overwork. Does it seem like the company has a hustle culture where everyone has to be on and available 24/7? Are you expected to take on a lot of unpaid tasks? Are meetings regularly scheduled early in the morning or after four? Also pay attention to how you're treated during the interview process. Do your interviewers arrive at the scheduled time? Do they set expectations and keep in touch throughout the process?
Lack of Reward
We all want to feel our efforts are well compensated, whether through pay, promotions, or other incentives. To assess the potential employer's investment in your career growth, ask:
What are the criteria and process for promotion?
How often are people promoted in this unit?
Do you have a professional development budget?
Do you offer leadership training or executive coaching?
How are mentors and sponsors assigned?
Pay attention: You're looking for signs that the company has a clear process and objective criteria for promotion. You want to know that coaching is available to support development rather than being used when there are performance problems.
Lack of Community Support
You want to be able to bring your whole self to work and feel safe to contribute and make mistakes. If you are spending energy code switching and are afraid you will be judged as incompetent for any misstep, you will be drained and exhausted. To assess whether you'll be working on a supportive team, ask:
How do you give feedback to employees?
Can you describe how you handle mistakes on your team?
How do you ensure everyone contributes their ideas?
How do you manage conflict?
How often do you have personal check-ins with team members?
How would you assess team morale?
Pay attention: You're looking to see if the manager is open to learning from mistakes and whether they are interested in you as a person. Also pay attention during the interview process: Do you feel seen, heard and respected? Do people you meet try to put you at ease? Do they ask about your interests outside of work? Do they demonstrate active listening skills? If your interview is in a group setting, observe people's interactions. Do you see an openness to collaboration? Are people patient and personable with each other? Does anyone dominate the conversation or interrupt?
Misaligned Values
We all want to feel like our work has meaning, and a values misalignment can impact our motivation. To assess whether your values align with a potential employers' ask:
How is this role connected to the company's mission?
Can you describe how the company values guide decision-making?
How does the team's work impact the company's goals?
What OKRs will I be measured against?
Does the company encourage community service during work hours?
How does the company give back to local communities?
Pay attention: Can the interviewer communicate the company's values clearly? Do you see your own values reflected? You can also ask for more details on specific values that are important to you, such as diversity or sustainability.

If you're struggling with burnout, you might want to seek support to help you develop boundaries, reset, or identify your needs and values before embarking on a job search. When you are ready to apply for a new position, use this guide to help you look for supportive companies, find a good match with your needs and values, and set yourself up for success in your new role.
Are you worried about joining an organisation with a burnout culture? It's important to recognise the warning signs before you accept a job offer. If you're looking for guidance in finding a job with a healthy work environment, experts at QTC Recruitment can help you find employers in the Life Science industry that prioritise employee well-being. Check out how you can be helped here.
---
Also published on HBR.com
---
Want to stay informed about current Life Science and recruitment news on a regular base? Then register here for free.