Written by manon - 5 Minutes reading time
Onboarding your workers in the most efficient manner possible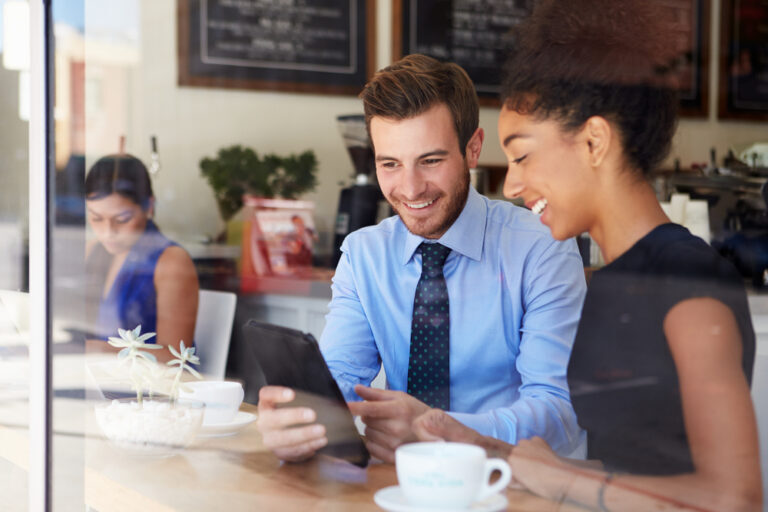 [vc_row][vc_column][vc_column_text]Effective onboarding orients your new employees 
and
integrates them into your company's culture. You illustrate for them, vividly, how your cultural values are brought to life through your team members' relationships, collaboration, and final offering to the marketplace. Your newest employees learn not just 
what
 they'll do to put their talent to use for you, but also 
how
 they're expected to work with others and 
for
what greater purpose
.
This is how your culture gets strengthened instead of diluted when you bring new people on – and how to accelerate new employees' contributions and inspiration at the same time.
You can provide this caliber of onboarding experience for your new employees. Here are four steps to guide you:
1. Culture Exposure
What do excellent team citizens look like in your organization? What do they say and do daily? Help new employees integrate fluidly into your culture by showing them how the people in your workplace are expected to treat one another.
Pull in your culture champions – the people who live your company's values like rock stars. Through a series of four to six brief skits, have those team players roleplay high-stress situations that have actually occurred in your organization. Show new hires exactly how they can preserve your cultural values when it's not easy to do so.
Make your culture's values concrete, relatable, and liveable. From the very beginning, give your newest employees permission to act in accordance with your values in every situation. This will be liberating for them. They won't have to second-guess which is more important: results, or how those results are achieved.
2. Mentoring
Assign every employee a mentor. This mentor should be someone who's a powerhouse in driving your culture. And, that mentor needs to be someone other than the new hire's formal supervisor. Having a mentor outside the reporting relationship can offer a safe venue for people to ask questions and better navigate their new work life.
Mentoring begins with an hour-long meeting every week with the focus on what the new hire wants to discuss. After two months of scheduled meetings, employees can request meetings with their mentors as needed.
The purpose of mentors is to provide your newest talent with strategic clarity, problem-solving support, and most importantly, culture reinforcement.
3. Partnering With The Boss
Set up a formal partnership between new employees and their bosses. These relationships are often overlooked in onboarding experiences. Yet, new hires need up-front education and validation from the one team member they most want to please: the person who can promote or fire them.
Give your supervisors the opportunity to make their expectations understood and set your new hires up for success. Solid reporting relationships are worth their proverbial weight in gold. People get positioned to contribute to their team's goals and to your company culture.
For these relationships to work, however, bosses must embrace the responsibility to be servant leaders, focused primarily on helping their team members succeed with soul! With a servant mindset, they can help their partnerships with your newest employees evolve smoothly and gratifyingly.
4. Contribution Management
What are your people expected to contribute, not just economically, but culturally?
Contribution management is a more comprehensive approach to performance management.
Contribution planning outlines clear goals for performance metrics as well as values metrics. As goals are achieved and new goals are formulated, the contribution plan is updated so it's current. When contribution evaluation comes around, it's a simple matter for both parties to review the six-month period and agree on accomplishments, missed targets, and value alignment.
Contribution management is a series of conversations that happen often, beginning immediately after hire, during the onboarding experience. Through this structured conversation, new employees understand what is expected from them, holistically, on performance targets and values demonstration. They are integrated into your company's workflows, collaboration channels, and culture.
What if the new hire just doesn't fit?
It's possible that, despite your terrific orientation and integration activities, a new hire just doesn't fit your culture.
Best practices are emerging around this issue. Zappos, for instance, offers a "pay to quit" offer for all new employees at the end of their four-week onboarding program. The company offers people $2,000 to quit before they even get started. Why?
The company wants every employee to be at Zappos because they want to be there and because they believe in the Zappos culture. If new hires know they don't quite mesh, Zappos doesn't want them to feel stuck.
It's a bold and brilliant idea. If a new hire who is a culture misfit stays on, it's only a matter of time before the values' disconnect causes conflict. Addressing the conflict and recruiting and onboarding someone new is expensive. It takes away time and energy.
Paying people to leave as soon as the values misalignment is sensed is the (much) cheaper option. In addition, it protects the high-performing, values-aligned team members already in place.
The way you treat new hires tells every employee in your organization a great deal about your purpose, values, and culture.
Invest in orienting and integrating your newest talent. Leverage your onboarding practices for your company's greatest possible gain.
Are you looking for suitable professionals for your Life Science organisation who align with the company culture so the onboarding process can be made smoother? QTC Recruitment can help you and advise you on a fast 'onboarding' process when your new colleague has started working with you. Click
HERE
to get started. Read more
news
---
Published on Forbes.com
---
Want to stay informed about current Life Science and recruitment news on a regular base? Then register
here
for free.[/vc_column_text]