Written by Shakila - 5 Minutes reading time
Learn from companies without staff shortages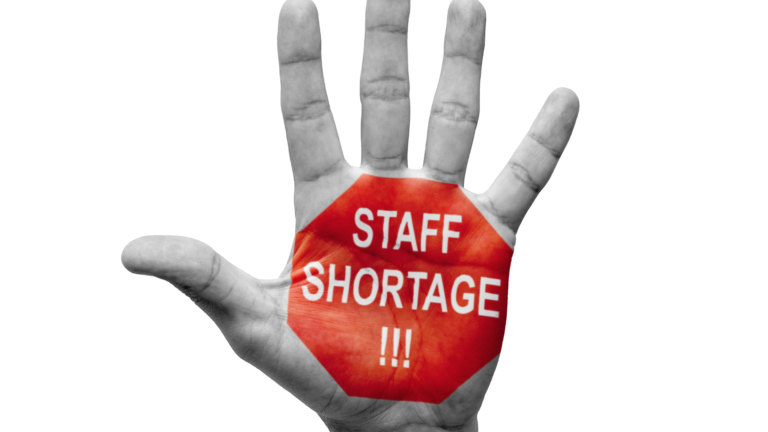 Nowadays you are confronted daily with the persistent tightness in the labor market. This tightness is currently hitting all records: never before have so many people been employed, while the number of vacancies has also never been so high. Yet there are organisations that are not hindered by this. What are they doing differently?
Staff shortage
You probably experience it yourself: the fresh sandwiches at the gas station? Unfortunately closed due to staff shortages. Long waits on the terrace, calling a general number and being on hold for hours, or the number of burnouts skyrocketing en masse because employees have been working extra hours for months due to the number of vacancies.
So why is it that some organisations do have enough employees? By looking at the recruitment process of these organisations, you quickly realise that there are gains to be made for organisations struggling with staff shortages.
1. Improve the findability of your vacancies
Most organisations stick to posting job ads on Indeed or putting leaflets on the front desk. With some 80,000 vacancies on Indeed and leaflets printed with the text "personnel wanted" the chance of getting noticed is incredibly small. Do you post a vacancy on your own website? Then it remains to be seen who happens to land on your website.
Time to do things differently! Go on other channels or do something unique with your job posting. Did you know, for example, that you can reach young people perfectly on TikTok? Or that with a vacancy video you can tell even more about your organisation without visitors having to read endless texts? A job podcast can also really make a difference. This is an accessible way to give more depth to your vacancy text.
2. Think of new accessible methods
Take an objective look at your job posting. Is it still a rewritten text consisting of fixed parts? Think 'who are we', 'who are you? 'what will you do? and 'what do we offer?". To this, there's only one thing to say: away with it!
Such a standard job ad is totally out of date. It simply doesn't fit in such a scarce market. Take a critical look at your text, change the order and be unique and creative with your use of words. You can also, as mentioned above, make a job video that you distribute via social media. Ask potential talent only for a name and number. Really, yes: it's nice and approachable. 
It's really not like you suddenly get hundreds of applications. You can easily call back the applications that come in, enthuse them, and thus win them over. Turns out it's not a match after all? Then the phone call will have cost you a mere 5 minutes, but there is a better chance that there is a gem among the callers.
3. Money talk
Inflation is skyrocketing and people can get work anywhere. Employees, therefore, have more demands than before. A salary in line with the market? Nobody does it for that anymore. Do personnel costs make up about 30% of your balance sheet? Make that 40%. You may be able to rectify this in other areas.
The important thing is to go back to the drawing board and see what is possible financially. This does not mean that you only attract money-minded and poorly motivated applicants. The fact is that in the Netherlands at the moment, a competitive salary does not get you very far as an employee. Mortgages are skyrocketing and even energy is almost impossible to afford. As an employer, you can respond to this.
Don't forget to surprise your current staff with a small raise. This motivates your employees and ensures that your back door stays closed longer. This way you also save on your recruitment costs.
4. Go for new terms of employment
Standard terms of employment, including a competitive salary, x number of days off, and affiliation with a pension fund, are no longer special. To really stand out, it is a good idea to delve deeper into what makes you unique as an organisation. If you don't know why people should work for you, no one else will.
Take a closer look at your organisation and determine, together with your employees, what makes working for you so enjoyable. For example, do you have a restaurant with impossible working hours, and do your employees have to work every night and every weekend? See if you can change that and get your employees to take more time off.
Then you will create a unique position for yourself in the job market compared to competitors. You need more people but will also find these people faster because you are more flexible.
So start looking creatively at what puts you ahead as an organisation. Is it free massages? Sports sessions? Or do you let your employees select their own benefits à la carte?
5. Work on your employer's image
How potential candidates perceive you as an employer is extremely important for recruiting new talent. You want to be authentic as an organisation. With a strong employer image, vacancies are more quickly filled by candidates who want to work for your organisation. Thus, you experience fewer capacity problems, allowing you to optimise services, and have less retention and lower turnover.
Just telling people you are a good employer is not enough. So make sure you are actually a good employer for your employees. After all, your employees are your biggest fan.
Also think about your story: what makes you special as an employer? It's useful if you talk to your staff about this and find out what they say at parties, for example. Use this information to better target your job ads and campaigns. These times are increasingly about being a unique employer.
Has the labour market tightness affected your company, and are you also having issues at your workplace due to the shortage of staff? Then let experts at QTC Recruitment take the hard work from your hands by finding you the best match that fits the needs and requirements of your organisation. Check out how you can be helped here!
---
Also published on Frankwatching.com 
---
Want to stay informed about current Life Science and recruitment news on a regular base? Then register here for free.