Written by manon - 5 Minutes reading time
Core Values: Why do they matter and how to find yours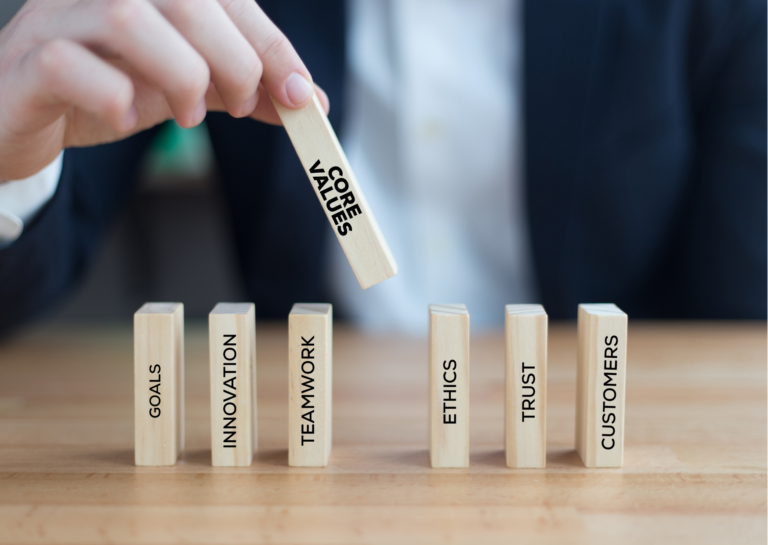 Many modern businesses talk about their "core values," both internally and as a way to promote their company culture to prospective employees and business partners. The idea is to use these values, which often include ideals such as innovation and authenticity, to guide your business decisions and teamwork.
But how exactly do you find your core values and incorporate them into your operations? We spoke with business leaders about why these values matter and how to get your team to live by them every day.
The importance of defining core values
Core values provide a connection point among the three main components of a successful company: the individual, the team and the organization, said Ryan Robinson, chief people officer at Bazaarvoice.
"Values inform the culture of a company and serve as the rallying cry for retention, inspiration and commitment," added Parker Lee, principal at Compass52 design consultancy and co-author of "The Art of Opportunity" (Wiley, 2016). "When [values] are unclear, the firm may lose its direction."
Tonya Lanthier, founder and CEO of online job board www.businessnewsdaily.com.
"Like dating, when core values match up [between employer and employee], there's chemistry," Lanthier said. "The same goes for the job-search process. It's all about finding a match."
By defining and publicizing your company's core values, you'll be able to attract job seekers who embody those ideals. Lanthier advised discussing values during the interview process to ensure that both parties are on the same page.
"Freedom might be a core value of the job seeker, and if that person is put in a job that is confined, then this person will likely fail," she said. "Putting them in the back office will be like a death sentence to them. It's a great idea to ask [about] core values, and [employers and employees should] know their own."
Robinson said Bazaarvoice uses its core values as a recruiting tool, and once someone is hired, that person can use those values as a foundation for fitting into the culture.
"We tell all new employees during their orientation that there is not a single decision that can't be made by using our core values," Robinson said.
Examples of core values
The phrasing may vary from company to company, but most organisations strive to operate by a similar code of conduct, one that encourages collaboration, creativity and integrity in every team member's work. As you will see in the following examples of core values from real companies (including Business News Daily's parent company, Purch), these values can be single words, phrases or whole sentences.
Growth with integrity
Collaborate to succeed
Embrace clarity
Embody ingenuity
People first
Will to win
Philanthropy
Authenticity
Generosity
Respect
Passion
Innovation
Have a creative and open mind
Engage in teamwork
Deliver value and excellence
Explore, experiment and share
Based on our sources who shared their companies' values, four or five seem to be the most common numbers of values an organization chooses.
Finding your company's values
It's rare that a company launches with its core values all figured out. Robinson noted that Bazaarvoice didn't come up with its values until after the organisation's first full year of business.
"[The founders] wanted each value to be representative of how the company actually functioned together, rather than words simply forced upon them," Robinson said.
In other words, these guiding principles need to happen organically, and be discussed and decided on as your company grows. Ed Mitzen, founder and CEO of Fingerpaint marketing agency, said it's also important for as many of the team members as possible to share their thoughts, since they're the ones who will have to live by these values every day.
"We came up with our [values] by having our management team, 15 to 20 of us, draft up what we thought would be ideal values to stand for as a company," Mitzen told Business News Daily. "We sent the draft to the rest of our employees and got their input and feedback.
Incorporating values into everyday culture
Defining your core values is one thing, but are you and your team truly living by them at work every day? Mitzen said abiding by your company's principles starts at the top.
"Above all, the managers have to live it," he said. "You can't talk about 'people first' and then be complete jerks when it comes to managing your people. Otherwise, it becomes empty words and no one believes it."
"If your leadership doesn't practice your values daily, how can you expect your employees to do so?" Robinson added.
To get people to really embrace the core values, you need to have an onboarding process that emphasises how important those values are. Robinson advised spending time at the beginning of a person's tenure to walk through each core value, its intention and how to live that core value on an individual, team and company level. Then, continue to promote the values through your company's processes, programs and communications.
Finally, talk to your employees from time to time and make sure they feel like the company's core values are truly being followed, Mitzen said.
"I think living and demonstrating the company's values is one of the measurements of success for an individual," he said. "It should be part of the review process, not just for the individual, but also for projects and initiatives. And by reviewing how well we lived up to the values, it will further ingrain them into the day-to-day way of working."
Do you need help finding your ideal candidate who embodies your company's ideals? When core values match up between employer and employee there's a match. QTC Recruitment provides expert and tailored guidance to your Life Science organisation's needs. We use core values to define if someone fits your organisational's culture. Find out what we can offer here!

---
Also published on Businessnewsdaily.com
---
Want to stay informed about current Life Science and recruitment news on a regular base? Then register here for free.