Written by manon - 5 Minutes reading time
How to conduct a virtual interview: tips for employers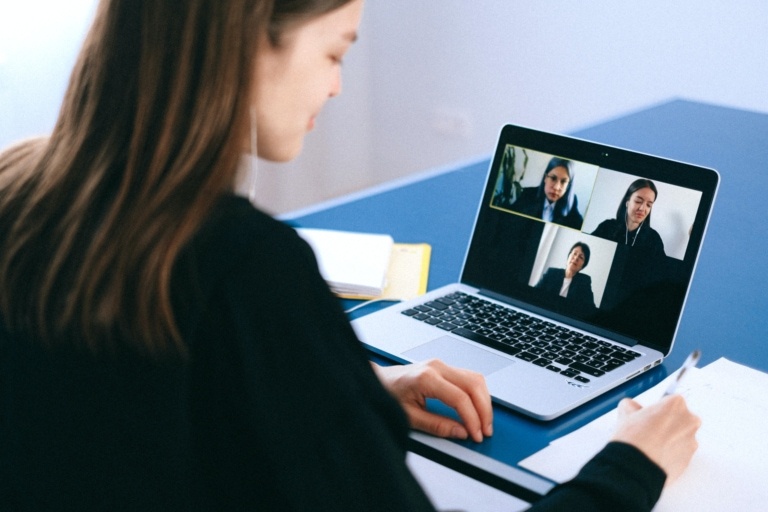 Even though the landscape of work has changed drastically over the last 12 months, certain things never change. One of them is the importance of taking the time to properly recruit the best possible staff – and that can rest heavily on the effectiveness of your interview procedures. With so many people working from home, and with many interviews now taking place online, it pays to adapt business as usual to reflect the new challenges. You need to quickly determine just how well a candidate fits not just the job description, but the company culture in general – a tall order when all you get is a pixelated image of them over Skype or Zoom! A survey found that a whopping 86% of companies are electing to do virtual interviews during the Corona virus pandemic. Though it's true you can't get that firm handshake in a virtual interview, there's a lot you can do to find out more about the person on the other side of the screen. Here are three practical tips to get you started.
Ensure your tech is up to the job
So, you've started the next phase of your recruitment process and need to interview your chosen candidates. The last thing you need is your Wi-Fi cutting out mid-zoom call! An important aspect to consider is the tech you use at home, and its efficiency. With remote working the new norm, Broadband and Phones suggest that "while a standard connection may be enough for everyday emailing and web browsing, it might not be sufficient enough for good quality video conferencing." It's important to spend time researching the best broadband available in your area to ensure you have the capacity to live call candidates.
Practice some basic virtual interviewing etiquette
Yes, your interviewees are not likely far from their computer screens or even phones at any point during the day, but it's good practice to give them enough time to prepare. Arrange an interview at least 24 hours in advance, and give them some guidance – for example how long you expect to take, who they'll be talking to and what they can expect, broadly. The interviewees will undoubtedly be taking the time to dress well and set up their cameras properly. Show the same courtesy by making sure that your audio and video are clear, and that your background is neutral and not distracting in any way. Make sure you won't be disturbed for the duration of the interview – candidates can be thrown by an interviewer who interrupts the discussion to take a call or answer a message. Make sure to send a formal invitation by email beforehand and take a few moments to test your connection before starting – factor in a little more time for any technical difficulties.
Consider using a virtual assessment tool
You may need to enlist the help of an external group to administer a series of carefully designed tests to get to the heart of what makes an ideal candidate. Psychometrics can be a great way to not only save time, but cut down on all too human bias – and save time, too. Arctic Shores claim that the right psychometric tests can improve candidate quality by up to 40%, and cut hiring costs by almost a third. The best thing about them, however, is the ease with which you can administer them virtually. You can test candidates well before you ever book that online interview. Depending on your business and the number of candidates you need to process, this can be a smart move. You could even move beyond basic questionnaire style psychometrics and opt for more nuanced neuroscience tasks that more directly assesses each candidate's dynamic performance in real time. You may be surprised to find that interviewees actually love doing psychometrics, and may take the role more seriously if they perceive your recruitment process as being thorough, professional and scientifically proven.
Take it slowly
Once you're set up and ready to begin, conduct the interview as you would an in-person one, only take your time a little more. The unnatural format can stress a lot of candidates; speak slowly and clearly and give them time to answer questions. It might be easier for you to begin talking. Start by explaining the role a little more, or discuss your company's values and work culture. You could also explain very quickly the structure you expect the interview to take. Zoom or Skype calls can feel awkward. You may need a little practice to ensure you're coming across in a friendly and approachable way. Pay attention to your body language and be sure to smile. It may be difficult to make eye contact directly, but you can still put the candidate at ease by being relaxed and open. Virtual interviews are not al that different from conventional in-person meetings, but they do require some preparation and perhaps a little more understanding. Act professionally and plan ahead to include enough time to set up properly and get comfortable. Though they're arguably not as good as the real thing, virtual interviews can tell you just as much about a person as in-person interviews – provided you work around the obvious limitations. This article provides tips to get a better picture of the person you're interviewing. In need of Life Science professionals to do an interview with? Click
HERE
!
---
Published on Recruitmentjuice.com
---
Want to stay informed about current Life Science and recruitment news on a regular base? Then register
here
for free.