THE LIFE SCIENCE RECRUITERS
How we work
LARGEST LIFE SCIENCE NETWORK
QTC Recruitment, the Life Science recruiters
When you opt for QTC Recruitment, you opt for the largest Life Science network in Northwest Europe and for an excellent, specialist service!
As dedicated Life Science recruiters, we do everything in our power and more to meet your needs. Transparency and decisiveness are central to this. The best price/quality ratio on the market with the option of a 9-month guarantee on your choice: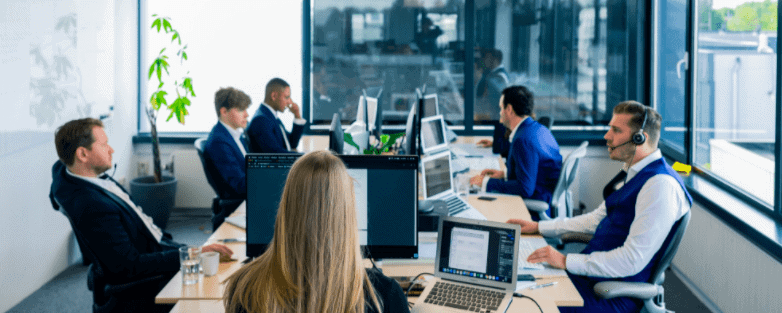 The start
When you place an order, we will talk to you extensively about the available position, your organisation, your expectations, the time frame, the competency profile and the (job) requirements. And because a good match does not consist of hard skills alone, a personality test may be part of the procedure to find out whether the potential professional is also a match in terms of his or her soft skills. Following our consultations, a unique and transparent process plan will be drawn up, so you always have a clear picture of when to expect what. We refer to this as a search proposal.

Introduction
After this, your Life Science recruiter will get to work to find the ideal specialist and to create a match based on the points discussed. All this within the agreed timeframe. Depending on the service you opt for, this can be within 10 days with three suitable Life Science professionals being introduced.
When the selected professionals are in line with your expectations, one or more interviews will be scheduled. If you so wish, we can also take personality tests. During every step in the recruitment process, your recruiter will maintain contact between you and the professional(s) to take as much work off your hands as possible. Openness and transparency are central to this.

Guarantee of up to 9 months
When all interviews have been concluded and you have made your choice for the most suitable Life Science specialist, you will be assisted in drawing up an attractive offer. After you made your choice and before the professional starts, we will keep in touch with your new colleague to answer possible questions.
Depending on which service you opt for, you can get up to a nine-month guarantee on the specialist you choose. This means that if your choice underperforms within these nine months, we will introduce you to a suitable replacement specialist, free of charge.
Best price/quality ratio

Most of our services start at 25% of the annual salary of the newly recruited professional. This amount can be charged in parts at various steps during the recruitment process. Depending on the service you choose, we do this on a no-cure, no-pay basis or with a money back guarantee.